All season long, the USA Half-Marathon Championships in Duluth had been the focus of my season. While the season didn't go as planned (went from focus on speed, to focus on Boston, to no Boston), the goal has always been to be in my peak shape for the half-marathon. Last year, I finished 15th in 65:01. If the 2013 field would have been comparable to the 2012 one, I wanted to have a shot at the top 10. After the field was released, I felt like there was no chance that would happen. There were over 150 guys and I was seeded outside the top 30 with guys like Meb Keflezighi, Abdi Abdirahaman, Mo Trefah, Bobby Mack, Josephat Boit, Shadrack Biwott, and Brent Vaughn gunning for the win. I felt like there were about 15 guys I had no chance to beat, so my goal was to finish inside the top 25 with a top 20 finish being an "A" type performance. But to be honest, you can't control or realistically choose your desired place. All you can do is lay it on the line and see where you stack up at the end.
With a rough placement goal, I was focused a little more on my time. The race gave out time bonuses based on your overall time. Sub 67 got you $250, sub 66 got $500, sub 65 got $750, sub 64 got $1000 and sub 63 got $1250. I felt like I would at least run under 65, with a focus on sneaking under 64 if the weather would play nice and I ran well.
But what would a major race be without some drama? A few days out, Kate woke up screaming bloody murder. I laid down beside her, wondering why her breath smelled so bad. Only it wasn't her breath but the pile of puke I was laying in. I freaked out, ran into the bathroom and hosed down. Two days later, Mary was sick with it. This was like a repeat performance of this past December when Kate got the norovirus from Mary's mom, then gave it to Mary who then gave it to me. It was the Tuesday before the race and I knew I would probably be puking before I left for Minnesota and probably wouldn't even make the trip. I slept downstairs and only got about two hours of sleep because I was so stressed out. I then did what any rational person would do and headed to Wal-Mart for some gloves, face masks, Lysol and a gallon of bleach. I waged chemical warfare on the house and anywhere I would walk, I would spray a can of Lysol in front of me before advancing. Wednesday came and I was fine. I felt like a million bucks Thursday morning and I was on my way to Duluth. I felt like if I made it until Friday, I would be in the clear (normally it takes 24-48 hours after exposure for you to get sick with the norovirus).
Since I don't feel like typing all the details leading up to the race again, I just want to say the people putting on the race do a world class job of making you feel welcome and taking care of their athletes. Everything is organized, you know exactly what was going on and what you need to do and they make sure you are well taken care of. I've run a ton of races and while a lot of them did an excellent job executing everything, no one has done as well as Grandma's the past two years.
The Canal Park Lodge, where I stayed. It was right on Lake Superior and behind an extensive greenway system
Finally, Friday night arrived and it was time to head to bed. With a 3:45am wake-up, I went to bed a little before 9:30pm hoping it wouldn't be thunderstorming in the morning, which seemed to be the likely scenerio. The last thing I wanted to do was to head back to Hendersonville without a race in my legs. I woke up at 2:45am and I couldn't fall back asleep, so I was up and at it. Normally I'm not a morning person but with a 6:15 race start, I needed all the help I could get. I ate a Powerbar in my room, chugged some water and then headed downstairs for some coffee and a couple bowls of Lucky Charms. Yeah, it doesn't sound like the meal of Champions, but pre-race, you want to eat easily digestible food, not whole wheat stuff that sits in your stomach and can potentially cause some stomach issues.
At 4:30am, it was time to load the bus for the ride to the start. As fate would have it, Josh Whitehead sat beside me. I always viewed him as somewhat of an arch nemesis due to his wind drafting ways. But I ended up feeling like a big jerk because he was a super nice guy with a good head on his shoulders. He definitely seems like a family man and is still setting PR's at 35 (had a late start to running). But he did stick true to his tradition of wearing fashionably challenged clothing with this pair of shorts.
While it looked like the thunderstoms weren't going to be an issue, I got off the bus to a light rain and temperatures in the lower 50s. Two weeks before, I was running in temperatures in the 80s/90s with dew points in the mid 70s while in Florida and in Tennessee, it's always pretty hot. Needless to say, it felt like wintertime again and I spent about thirty minutes sitting in a chair with a towel around my legs, shivering. With about 35 minutes until the gun, I warmed up for an easy 2.5 miles or so with Saucony teammate Jake Krong, who sounds EXACTLY like Jay Bawcom, husband of US Olympic Runner and former college teammate, Janet Bawcom.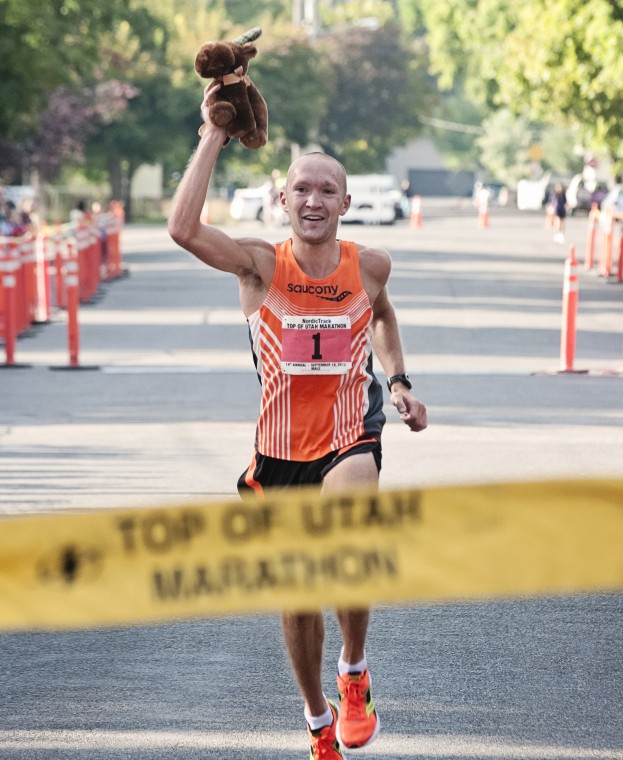 He sometimes likes to race with a moose. Guess he couldn't bring it to Minnesota because you're only allowed one carry-on
After finishing my warm-up, I went to strip down to my singlet and shorts and check my gear bag in before the bag truck took off. I had plenty of time, but the volunteers did a great job of yelling exactly how many minutes you have left until it left. With about three minutes until the truck left, I was on my way to turn it in before some lady yanked it out of my hands, gave me a mean mug fit for Compton and snarled that she would take it and that I should have taken it earlier. I wanted to tell her that I could definitely smoke her in the 20 meter race to the truck but she probably would have decked me. I remarked to someone that I was glad I didn't have a naggy wife and I was off for a few fast strides to get ready for the start.
I took a spot a on the starting line a couple of rows deep and finally we were off. Last year, the pace felt so easy at first, but it was too hard and I paid for it later on. I knew with such a deep field, that people would shoot out even faster, so I made a conscious effort to put on the brakes and catch a lot of the fools later. I'm pretty sure I covered the first 1/4 mile in under 70 seconds, was behind a ton of guys and was probably close to 100th place
Each mile marker in the race was marked with a tall stack of balloons. That way, you could see the mile marker from a couple hundred meters away. I went through the first mile in 4:44 and was probably just outside the top 50, with the leaders splitting 4:21. I wasn't running with anyone and was just doing my own thing as I slowly moved up the field. I could see a huge pack of about 20 guys or so about 5-10 seconds ahead of me but I knew it was too early to try to catch them.
At 5k, 10k, 10 miles, there was a clock displaying the overall race time and I went through the first 5k in 34th place at 14:48 (the results now say I was 30th, but they took out all of the guys who dropped out). I was gaining on the big pack and a little after five miles, I caught it. There were probably 15-20 guys in it and I recognized Andrew Carlson, Joe Moore, Zach Hine, Daniel Tapia, Craig Leon, Sergio Reyes and Tyler McCandless. There were also a handful of guys from the Boulder Running Company team, but I didn't know who they were. All of the guys I knew were super tough, so I decided to latch on the back of the pack to calm my nerves a bit. At first I wanted to pass them, since technically, I was running a faster pace when I caught up, but there was plenty of racing left to do.
I went through 10k in 19th place in 29:54, which was technically a 10k PR. I feel like I can run under 29:00 but I've never run one on the track and never really raced one one the roads either. At this point, I was towards the front of the pack. I had trouble running in the back because I'm terrible at running in packs. I clip heels, stutter-step, bump into people, etc. I guess it's because I do almost all of my training alone, so I never get a good feel for it. I could tell the pace was slowing a bit and I was feeling pretty good, so at eight miles, I left the pack in hopes someone went with me.
But I was alone with no one ahead of me close enough to chase down. It didn't last long as Sergio, Tyler and some Boulder Running Company guy with a bouncy running motion and foamy armpits caught up (Andy Wacker). It was a bummer at first because leaving someone then being chased back down can be a swift kick to the gut. My old college self would have been mentally broken, but my patient old-man self tucked in and hung on for the ride again. I went through 10 miles in 48:23. I didn't know what that meant, I just hoped it meant I was running sub 64:00 pace.
We were now in Duluth and instead of a pack, we were strung out in a straight line. There was a short hill (for you Hendersonville folk', it was about the size/grade of the hill by the dog park at Moss Wright Park) and if you know me, you know I hate uphills. My butt is weak and I have tight hips, which doesn't bode well for me on the inclines. Some short guy took off up it, and I was hoping the group didn't follow suit. Luckily, they all let him go and I actually was second up the hill.
At this point, I started to get feel the fatigue some and noticed my right arch was hurting. For some reason, my right glute is a lot weaker than my left and in longer races, it gets pretty worn out and when that happens, I start to overpronate a lot, which puts a lot of stress on that side. It's funny how when you get tired, you start to notice all of the other negative things you should be immune to. But I quickly reminded myself to stop being a pansy because I only had about ten minutes of racing left and stuck with the group.
I continued to follow them and got a boost of energy as Andrea North, girlfriend of Jake Krong, cheered me on. We ended up catching Bobby Mack and Ahmed Osman but rather than let us go, they tucked right in. Tyler threw down a surge followed by the foamy armpit guy. I was feeling pretty decent at this point, so I debated making a long drive for home. I took a quick look over my shoulder and noticed about 10 guys right on my butt. I'm a terrible poker player but I feel that if you are at a table with about ten other guys and you aren't sure how good their hands are, you don't raise the pot, you call and see what happens later. So I decided to relax and wait.
L to R: Andy Wacker, Me, Tyler McCandless, Ian Burrell, Carlos Trujillo, Bobby Mack
With a little over 1/4 mile to go, Ian Burell and Bobby Mack shot off and then a couple other guys passed me. I passed those two guys at the start of the homestretch with Bobby and Ian putting a nice gap on me. I looked over my shoulder and saw the others were fading, so I tried to chase down Ian. I started gaining on him but ran out of distance at the end (and who's to say he wouldn't have blasted me if I pulled up beside him).
When I crossed the line, I was really pumped. I had a heck of a race and ran a huge PR. I didn't know what place I was in or what my time was, but knew it was in the 63:teens. I called Mary and she watched the finish line camera and thought I may be in the top 10. When I heard Tyler say he was 11th, I knew I had it. I was in minor shock because I thought I had NO shot at finishing that high. It was a satisfying end to an up-and-down season (technically up-down-up-down-up).
Normally I'm trashed after half-marathons but my finish gave me a little bit of mojo and I got in a couple of miles with some of my Saucony teammates. And I don't feel like typing out all of the post-race stuff again, but I got a cool award at the awards ceremony, hung out a bit with the other athletes and then headed back to Minneapolis to catch my flight.
Glass I got for 9th place
The medal on the left is for finishing 9th. The one on the right is the finisher's medal
Since I got to the airport early, I took a bus to Mall of America, which is insanely huge. A little before midnight, I was finally back in Nashville and on my way home. Not only were Kate and Mary waiting for me, but so was the norovirus, which unleashed it's fury on me the day after I got back. Thanks to getting sick with it last year, I now have an aversion to ranch dressing (ate chicken wings right before I get sick). If I now have an aversion to Casa Vieja, I'm going to be extremely upset. It also caused me to miss the Peachtree 10k but to be honest, I didn't care that much and was happy to start my off-season, take some time off and lose my 4-pack.
Random Thoughts
I don't know how I pulled this off. I felt like my training was less than ideal and I'll have to dissect it and figure out how it worked. I'll make that the subject of another post.
I should have pushed the pace when I thought about it a mile or so out. Maybe I would have completely died and finished outside the top 10 but I have really bad leg speed and was able to run away from several guys the last 200m. Maybe that meant I had too much left, who knows?
Everyone who finished ahead of me has run under 28:30 for 10k. I want to try a track 10k next year, so that gives me good motivation. And I believe other than Shadrack Biwott and Josephat Boit (both recently obtained US citizenship), I believe everyone who beat me has represented the US before.
I only get about 1-2 massages a year because life is expensive but I got one the Tuesday before the race. Normally, I limp out of bed and have to lean on the stairwell when I walk downstairs in the morning but after the massage, I Moonwalked out of bed and tap-danced down the stairs. I really feel like it helped me for the race
Normally I get about 25-30% of my calories from junk food but in the last couple of weeks before the race, I cut it down some and entered the race leaner than I've been all season. Maybe the 1-2 pounds I lost helped and I still feel I'm about five pounds over my ideal racing weight.
I also feel being out of school the past few weeks has helped. More time to sleep and get in better quality sessions.
I normally check my watch a lot during races. I only have my individual mile time showing and when I hit the next mile marker, I hit the split button so the watch goes back to 0:00. I find that way makes me really focus on each individual mile and forget about the bad ones. During a race, I'll check my watch 2-3 times a mile to help me get through it. In this race, I didn't check my watch until I was in the last mile.
Not sure if being self-coached and training alone is a help or hindrance but it seems to be working well for me and it's all I have available to me right now.
2012 vs. 2013 splits Weather was about 5-10 degrees warmer in 2012
1. 4:41-4:44
2. 4:50-4:50
3. 4:49-4:45
5k: 14:50-14:48
4. 4:55-4:49
5. 5:02- 4:56
6. 4:50-4:46
10k: 30:12-29:53
7. 5:01-4:57
8. 5:04-4:53
9. 4:59-4:52
10. 5:05-4:50
10 miles: 49:17-48:23
11. 5:07-4:50
11.9: 58:52-57:23
12: ?-4:47
13:?-?
Final: 65:01-63:12