The Boston Marathon is always my favorite major marathon to follow. Yeah, I know there was a much faster field in London two weeks prior but Boston is a "true" race because there are no rabbits or pacemakers. And while the course can be fast, it has a small margin of error and can bite you in the butt if you go out way too hard.
Going into the race, I gave Kenyan, Dennis Kimetto, about a 51% chance of winning and Ethiopian, Lelisa Desisa a 40% chance of winning. Kimetto busted a 2:03 at Chicago and Delisa won Boston last year and has run 2:04. And among the two of them, they have run six marathons, with every one being under 2:06. Talk about consistency.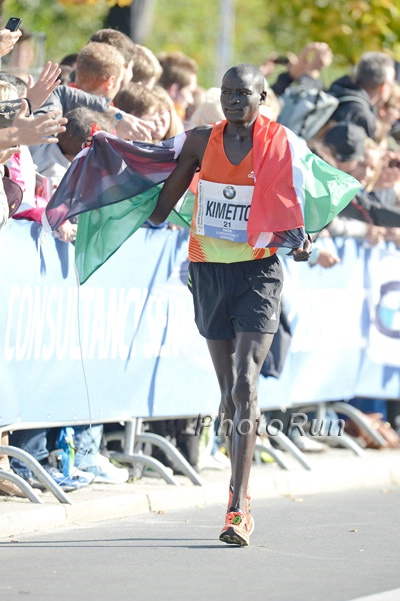 I really didn't think the any of the Americans had a shot and if one of them did, it would be Ryan Hall, even though he is a huge wildcard. Granted, I thought Meb would be the top American but in a best case scenario, I thought Meb would be 3rd-5th overall. Meb is super consistent but with eight guys in the field at 2:05 or under, I didn't think he had the pedigree to win.
While I was looking forward to seeing who won the race, I was mostly looking forward to seeing the American men duke it out. Beside Meb and Hall, you had Jason Hartman, who has run really well at Boston in the past. And behind him, you had Jeff Eggleston, who was 13th at the 2013 World Marathon Championships, Nick Arciniaga, who was the 2013 USA Marathon Champion, Brett Gotcher, who ran 2:10 in his debut marathon years ago and was the 5th place finisher at the last Olympic Marathon Trials. And with a sub 2:10 to his name, Abdi Abdirahaman would most likely be in the mix. And besides those guys, I knew Josphat Boit, Craig Leon and Craig Curley were all running and would be tough.
I was watching the race on my laptop and was surprised to see Flanagan take it out so hard. She wasn't going to be able to run away from the field they brought in and being she's more of a speed-based marathoner, she burns fuel faster than others, so a fast pace would burn through it even more quickly. And with Priscah Jeptoo in the field, I felt like it was only a matter of time before she took over.
In the men's race, I was surprised to see Meb leading the charge. My co-PE teacher was also watching and she asked how long the American guys would be able to stay in the lead. I replied that as long as the East Africans let them.
Right before lunch, Flanagan still had a small lead and Meb was joined by Boit, who still had a nice-sized lead on the field. Lunch time for me means my first run of the day, so I paused the feed and was going to watch the drama unfold when I got back. But when I got back, my browser had crashed! I had the race DVR'd on Universal Sports, but since I heard the coverage was terrible, I decided to look at the results and was completely shocked when I saw Meb won. Kimetto and Desisa DNF'ed, Ryan Hall ran 2:17 and Arciniaga, Eggleston and Boit all ran really well, finishing 7th, 8th and 11th. Craig Leon was right behind in 12th and American and Hansons runner, Mike Morgan, finished 13th. Not a bad showing for the American squad!
I was really surprised by Boit because he entered Boston the week before the race, and has been training for the half-marathon. For him to run 2:12 in an unplanned marathon and leading for a while is really impressive. Among Boit, Arciniaga and Eggleston, I feel at least one of them will break 2:10 before the next Olympics. While Boit is somewhat new to the marathon, Arciniaga and Eggleston have a lot of them under their belt. And instead of throwing down a fast time and then fading away, they've slowly chipped away at their PR's over time, which shows they still have faster times to come.
I was bummed to see Ryan Hall run so slowly. His slowest completed marathon was a 2:12 before this with the rest of them being under 2:10. The dude is super talented and I hope he can find a group or coach, stick with them for a couple of years and chase the world-class times again before Father Time comes for him. But then again, Meb, at nearly 39 years old, just won Boston.
In the women's race, Flanagan hung on much better than I thought and ran a 2:22 to finish 6th. Jeptoo set a new Boston record to finish in 2:18:57. That's amazingly fast but your mind really becomes blown when you remember that Paula Radcliffe somehow ran 2:15:25 over 10 years ago. I'm still scratching my head over that performance and hopefully before I die, I can pass away knowing I was faster than the fastest woman of all-time.
After reading about how it all went down, next year, I won't make the mistake of pausing the stream. But hopefully my fall marathon goes well so I can be in Boston actually racing.