For probably the millionth time in a row, the Fifth Third River Bank run was serving as the US 25k Championships. I've always felt like the 25k would be a good distance for me but I have never run one. I didn't have this race on my schedule until a few weeks ago, when our school's Field Day moved from Thursday and Friday, to Wednesday and Thursday. With Friday now available, I could make the haul up to Grand Rapids, MI.
I didn't really have a concrete race plan and didn't know what to expect just two weeks after the Country Music Marathon. All I wanted to do was go up there, compete hard and see where I finished. However, if my legs were feeling good and if I were ready to roll, I felt like I could run 4:55ish pace for the distance. I ran that pace for the Murray Half-Marathon, which has some climbs and I finished feeling really smooth and relaxed. I felt like I could have definitely run that pace an additional 2.4 miles and having people to run with in Michigan would help as well.
I was going to drive up with one of my summer/winter training partners and former athlete I coached, Vance Pounders. We had a near last minute change in plans, so we had to scramble to figure things out. Our new plan was to drive to Cincinnati, OH and stay with my old Nashville running friend, Chris Herren on Thursday night and then stay Friday night with a guy named Ted, who went to college with Nashville marathoner Jeanette Faber. Runners seem to have an unspoken camaraderie and will open up their doors to you, even if they have never met you. That being said, my wife won't let any random weirdos stay at my house.
A little bit after 4:00pm on Thursday, we were finally on our way. The drive up wasn't too eventful. The highlight of my trip was when I found out that Ohio didn't have any food tax. It doesn't sound too exciting but when the tax is nearly 10% in Tennessee, that extra 30 cents was a welcomed surprise. Since we lost an hour because of the time zone, we rolled into Chris's house about 9:30pm, caught up with each other's lives and then went to bed.
Cincinnati, OH
After waking up and heading out for an eight mile run, we were on our way again, this time with a 5.5 hour drive. It was another uneventful drive, except that once we entered Michigan, there was literally a dead raccoon every mile or so. I don't think I've ever seen a roadkill raccoon in my hood, but if you need deer, turkey, squirrel, possum and the occasional coyote or bobcat, my hood is the place to be.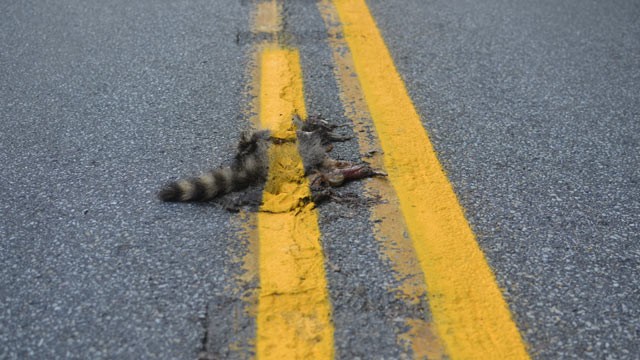 Finally, we arrived in Grand Rapids and was going to head to the expo and get our stuff before heading to Ted's. Downtown was a madhouse. One wrong detour cost us about 30 extra minutes because of all the cars. I hate driving in traffic, so I was ready to get out of the car. Once we got in the expo area, we had to drive around for another twenty minutes before finding a spot a half mile away. I'm not a baller, so no close-to-the-expo $5 parking for me.
I'm not much of an expo type of guy and I always try to get in-and-out as fast as I can. The constant crowds of people and overly eager salesmen mentally burn me out, so I don't waste my time. Vance went to get his 5k number and I went to get mine. My runner number was #117 and I saw that the 25k numbers started at 200. Fortunately, the people at the "Solutions" desk were able to help me out and I had to pick my number at some suite in one of the host hotels. After a short walk, we were there and I saw a group of Kenyans in the lobby, who pointed me in the right direction. After getting my race number (37), I ran into Andrew Carlson in the lobby and talked to him for a few minutes. He said the field was really stacked, which excited me some because I was coming up here to race some people, not nab a particular spot. After what had been another long day, we were on our way to Ted's. He had a two young daughters and I recognized pretty much every toy and sound in their play room. The benefits of having a two-year old. After talking for a bit, it was time for bed.
Since Vance's race was an hour earlier than mine (7:20 vs. 8:20), we got to the race a little early. When he went off on his warmup, I hung out in the hospitality suite and even though I already ate breakfast, I couldn't resist the delicious looking croissant staring me in the face and downed a cup of coffee as well. I ran my warm-up around the lake, and saw a ton of the other faster runners while trying to dog goose crap and then checked my bag and headed to the line.
The start of the race was pretty weird. Instead of the starter getting everyone settled and then starting the race, he gave some random warning and then immediately sounded the horn. I don't think anyone was ready but we were off. A few guys shot to the front and I took my time finding my pace over the first couple hundred meters. After about a half mile, there was a big pack of about 20 guys. I could tell the pace was really slow for them, so I hung towards the back of the pack so I wouldn't get sucked into any sudden surges or anything. I was just off Matt Tegenkamp's shoulder, which was pretty cool but I knew he would blast me by the end.
We went through the mile in 4:55, still bunched in a big pack. I didn't feel very smooth but it felt like my legs were locked into the pace I needed to run. My breathing wasn't comfortable yet but it normally takes me a couple of miles before I settle into the pace and get a good feel for the effort.
Over the next couple of miles, the pack would leave me, I would catch back up, then they would leave me again. I took it as a positive sign because it showed that I was running my individual race, rather than following someone else's "command." In the fourth mile, I was running side-by-side with Kevin Castille. I was hoping we would work together over the next few miles and chase down people as they fell off the back but he left me shortly afterward. I was hoping it was because he threw in a surge or something but when I saw my split, it was at 5:00. Crap.
The demons started entering my mind but I made myself shut them out and reminded myself of all the people who told me they were excited to see how I would run today. That wasn't enough I guess because each mile was slower than the prior run. I felt like I was trying to dribble a slightly deflated basketball. My body knew the proper force that was needed but I wasn't getting that bounce back. Stephen Shay then flew by me. A few minutes later, one of the Hanson's and some other guy. At this point I was waiting to get "chicked" but fortunately it didn't happen. At this point, I knew my race was over and mentally I was done. The last thing I wanted to do in the world was run, so shortly after nine miles, I dropped out for the second time in my life. Of course when you drop out, the medical people and others come running at you because they think you're about to die or something. I told them I was feeling really weak and drained, so they covered me in one of those Mylar blankets and I sat in a chair shivering for about 45 minutes while I waited for a van to pick me up. I felt a bit like a punished child, who was instructed to sit in a chair and think about what he did. I felt guilty for dropping out but as a self-coached runner, I knew it was the best decision. Yeah, I could have fought it out but frankly, I didn't want to and felt like saving my legs so I would be able to get a good week of training would be the best choice. When I'm racing, it takes a ton of mental focus and concentration and once that was gone, I felt like there was no point.
After I thought I was about to get hypothermia, they moved me to an empty pod, which shielded me from the wind and then about 15 minutes later, they came back and said the van was about 3/4 of a mile down the road and I had to go there myself. I was a little annoyed because I've been sitting in a chair for over an hour, in 42 degree windy weather in a sweaty singlet, and the last thing my body wanted to do was run. But run I did, even though my hamstrings screamed and the goosebumps never went away. Finally, a few minutes later, I was on the van.
After weaving all around the city, I was finally dropped off at the medical tent. I was freezing my butt off but they gave me an mini interview to make sure I was good to go, I guess. The finish area was packed, so I had to weave my way back to the hospitality room in the hotel, grab my my training shoes and shirt, then had to find the media tent so I could get my checked bag. The guy wouldn't let me in at first but remarked that he should have known, based on my thigh size (not sure if that was a good or bad thing). Finally, I had all my gear, met up with Vance and we were headed back to Ted's house for some quick showers and to jump back on the road.
The haul back was supposed to take nine hours and I really wasn't looking forward to it. I came up to Michigan to run fast and to turn some heads, but I just found myself sitting in a cold chair. But in all honesty, I'm not that bummed. Running is my hobby, albeit an important one. If things don't go well, I get to go home to my family and keep my steady paycheck from teaching. While I'm pumped when I compete well, when I perform poorly, I shrug it off and move on. It's not healthy or good to get too emotionally attached to things because then your happiness or misery rides on that one thing. But the ride home really wasn't that bad. It was good to catch back up with Vance and after a rather uneventful first five hours or so, it was cool to drive through Indiana and see the hundreds of wind turbines. We finally arrived back at my place around 7:30pm, which gave me some time to spend on the porch with Kate and Mary.
Overall, this was an insanely draining week. I was outside all day Wednesday and Thursday for Field Day, which was really tiring and then had to drive several hundred miles on Thursday and Friday. I've run well in races where I didn't expect to perform but I was just mentally and physically tired for this one. I guess I probably have a little bit of residual fatigue left over the marathon two weeks prior. What did I learn or take from this race? Nothing really I guess.
Random thoughts/comments
As of now, I'm not a big fan of Michigan. Like Ohio (which I currently don't like) if I race poorly in your state, it's going to make me a bit biased against it. But Michigan, you need to fix your potholes, overly promiscuous raccoons and your roadway construction. But at least your tax rate is low and you have badgers.
I've really been impressed with Craig Curley. While he's been on fire before this race, he hung with the pack for as long as he could and put it on the line. He also runs with a white hat, which I guess is worth a bonus point or two. Maybe he just has a weird shaped head, who knows?
I probably shouldn't have done the Country Music Marathon/25k Championships double. If I had to do it over again, I would have chosen the marathon instead. Yeah, it makes me sound like a competition dodger, but it was actually a really cool experience. I have even more awkward conversation with people now, I've had several school parents tell me that they have now started running and it was fun to run through Nashville and not have to stop for traffic every couple of minutes. I thought I could just wing a fast race, but there were a lot of killers at this race and I can't just go up there, show up and expect to perform.