With 2014 finally behind us, I decided to waste some time on my Christmas Break while my wife worked on a puzzle (lame) and make my own Top 10 US Road Runners rankings for 2014. The beautiful thing about creating your own rankings is that you can make the rules for it and if people think you're dumb, you can tell them to make their own dumb list.
Other than my gut instincts and my mood, I also looked at who ran well at big races, who had the best peak races and I gave a little bit of bonus points to people who raced a lot and at a variety of distances. None of that sissy grass running or running in circles counts. And you had to have at least three "real" road races, so sorry Bernie, you're out. The top two were a no-brainer and then it got really tough and after that point, everyone could be almost interchangeable.
Won the USA Half-Marathon Championships (which was somewhat expected), Boston (I gave him no chance at all) and ran really well at the New York Marathon. He's getting old but he's still the best road racer in the United States. I'd love to see him race Bernard Lagat in a 10 miler once they are both 40. And I want to see it, which means I don't want to race it and get destroyed by two Masters runners. With the Olympic Marathon Trials 13.5 months away, he is still the favorite.
It seems like he's jumping on the roads more and is competing very well on them. He threw down the gauntlet the last mile of the Gate River 15k to win over a tough field and raced very well and almost won the BAA 5k in 13:26. He then went on to beat a lot of tough Africans at the Beach to Beacon 10k to finish third and won the Manchester Road Race over Sam Chelanga, who I believe he beat everytime they raced this year. I also hear Mo Trafeh also owes him like $35,000 or something.
This guy is always in shape. He won the US 10 mile, 25k and 10k road championships and placed second in the 20k and 7 mile, while winning a lot of money in the process. Hopefully he uses some of that cash to buy some hamburgers because he makes me feel fat. He put a lot of his Chicago Marathon training on his
website
, which is a good read. And I don't believe he has ever raced a half-marathon, so hopefully he runs Houston in a couple of weeks.
#4. Aaron Braun
He had a busy year and even debuted in the marathon. He started off placing second behind Meb at the US Half-Marathon Championships in 61:38, was the top American at Bloomsday, won the Cow Harbor 10k and San Jose Half and was doing all of the work at the US 12k Championships before the leeches took over at the end. I've always liked how he hammers a hard pace from the get-go and isn't scared of anyone. I'd also like to see him and Landry compete in a half-marathon and arm-wrestling duathlon. He hasn't posted in a while, but most of his training is at: http://www.aabrauny.com.
He doesn't race a lot but when he does, he does it well. Dropped a 2:10 in London, beat a lot of tough guys to win at the Gasparilla Half-Marathon and then was the second American at New York. I'd like to see him compete in some US road championships but his focus is probably doing what he needs to be to be in position to snag a spot on the Olympic Marathon team. He also logs his training at: http://ryanvail.blogspot.com
#6. Tyler Pennel
The rest of the list was hard to make because everyone is so close on paper. But I'll go with putting Pennel fourth since he has some really good range. He started the year off on a great note to finish fourth at the US Half-Marathon Championships in 61:44, which was his debut. He took another stab at the distance a couple of months later placing as the second US finisher at the World Half-Marathon Championships. After spending a couple of months running in ovals, he placed 2nd at Peachtree to Landry. He made his marathon debut at Twin Cities and put a whooping on everybody. I would have loved to see him compete in Chicago because I think he's only a race or two from a sub 2:10 but Twin Cities probably gave him a good feel for the marathon distance and his wallet also probably liked it as well. I also believe he's run much faster since he lost his rattail. He's another guy who
logs his training online.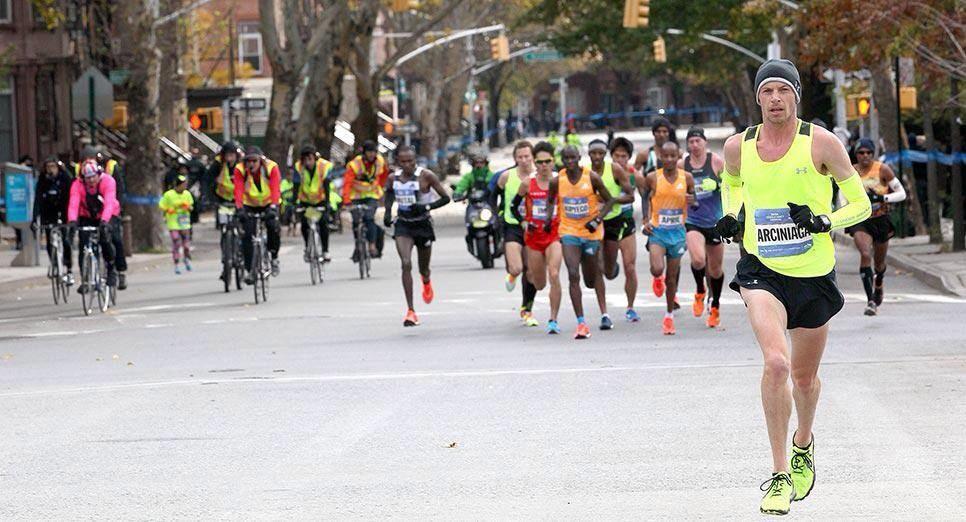 Scrappy racer who had two really good marathons this year. First up was Boston in 2:11, finishing seventh overall and second American and then came back and ran really well at New York placing as the third American behind Ryan Vail. He seems to be whittling away at his marathon time, which should put him in the 2:10 or under range soon. He's also allowed to
race as a superhero
if he wants.
This guy likes to get out and race a lot. He ran at least nine half-marathons, not counting pacing the marathon group to 63:00ish at half-way in Houston and raced two marathons (8th place at Boston in 2:11 and 2:10 at the Gold Coast Marathon in July). During the fall, he was busy being the Competitor Group's Half-Marathon poster boy before making a gutsy run at Fukuoka last month, where he was right at 2:08:00 pace at 30k before having the wheels come off and saving his legs for another day. He's pretty much self-coached and seems to have a real knack for understanding the marathon. I also must confess that I bought a pair of khaki-colored jeans after I saw him wearing some.
Another frequent face on the US road racing scene. He had a busy year of racing, starting off with a seventh place finish at the US Half-Marathon Championships in 61:56, 2nd place finish at the US 25k Championships and a third place finish at the US 10k Championships. He also ran a 2:12 marathon in Frankfurt and a 61:24 at the San Diego Half-Marathon, taking out guys like Gabe Proctor, Eggleston and Ryan Hall.
He had a very successful first half of the year with several top performances, including finishing third at the US Half-Marathon Championships, finishing as the top US runner at the World Half-Marathon Championships and then entered the Boston Marathon a few weeks before the race and ran with Meb for quite a while to finish in 2:12. I didn't see very much from him the second half of the year, so maybe he was injured or something, which is why he's at #10. I almost put Diego Estrada here, but Boit took it with his recent victory at the Run Like It's Recess 5k. He also ran 13:17 in 2001 as a 17 year old and I saw him compete in his first ever college race way back in the day.
So there's my list. It's crazy that there was no Ryan Hall, Dathan Ritzenhein or Abdi Abdirahaman on there. 2015 should be a great year for racing and I'm really looking forward to seeing a lot of guys drop fast marathons. There's been a sub 2:10 wall when it comes to American marathoning but with the Olympic Trials around the corner, it's going to be a dog fight for those three spots. And with guys like Vail, Pennel, Arciniaga, Eggleston, Boit, Biwott, Landry, Braun, Matt Llano, Bobby Curtis, Gabe Proctor and maybe a couple of guys I'm missing all in the mix, I can see several sub 2:10 times in this upcoming year.