This week, I'm going with another underated Redbox movie. Everyone knows about the massive blockbusters but many times, the best movies fly under the radar a bit. I heard Seven Psychopaths was a pretty decent movie and since it was a comedy, I felt that Mary would like it. However, she was out before I started it, which is a good thing because she would have hated it.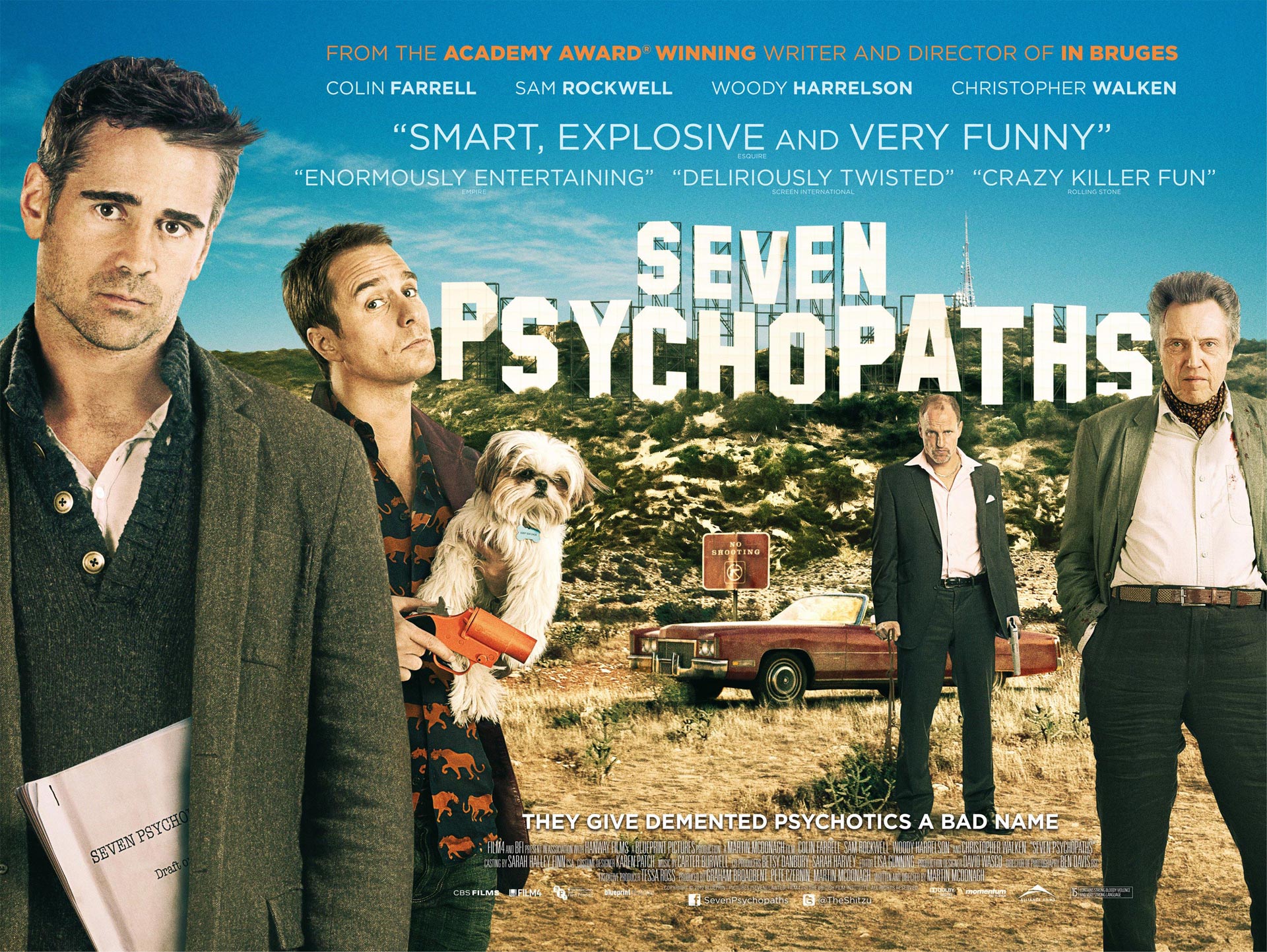 I didn't know much about the movie going in but it falls somewhat in-line with an action-packed dark comedy. Maybe something along the lines of a Quentin Tarantino spiced version of Snatch. It stars a pretty decent cast with actors such as: Colin Farrell, Sam Rockwell, Woody Harrelson and Christopher Walkien. Mickey Rourke actually passed up playing in the Expendables 2, to take Woody Harrelson's part in this movie, but he clashed with the producer, so he dropped out. There went some cash!
Marty Faranan (Colin Farrell) is the main character in the movie, and is a struggling writer. He's working on a screenplay called Seven Psychopaths, which tells the story of seven psychopaths (as you could have guessed.) His BFF, Billy Bickle (Sam Rockwell), is also struggling in his profession as an actor, so he makes ends meet by kidnapping (dognapping?) dogs and then returning them for cash. He is helped in this by Hans Kieslowski (Christopher Walkien). Billy goes on to kidnap the dog of violent gangster, Charlie Costello (Woody Harrelson), which turns out to be a pretty bad idea, as he loves his shih-tzu more than anything else in the world.
Costello begins to track down who stole his dog, which results in the trio of Marty, Billy and Hans heading to the desert and unbeknownst to Marty and Hans, Billy is planning his perfect final shootout.
The movie starts off pretty slow, but it turns into a fun two hours and is well worth the $1.31 that Redbox charged me. I've never been much of a Colin Farrell fan but Billy and Hans play their roles really well and Billy somewhat reminds me of a more psychotic version of Alan, from The Hangover. It's probably one of the best movies I've seen in a while and is worth a watch.