Stake Land is a movie I checked out last week. I never have heard of it, just saw that it was new on Netflix, looked like a decent flick, so I decided to give it a watch. It's a horror/action vampire/zombie movie. Well, technically, they are vampires, but not like this
or this
definitely not like this
if I had to relate them to vampires in another movie, it'd be something like this
Stake Land is a post-apocolyptial movie horror/action movie that combines vampires (that are more like zombies), looney cult members and a story about a guy (Mister) who can lay the smackdown who runs into a young man (Martin) and teaches him how to survive in the new world as they make their way to New Eden (aka: Canada), which is the safe zone, if you will. Along the way, they fight and kill many vampires and find other people to join their posse.
Vampires aren't the only danger as they also run into a religious cult that is causing a lot of terror in the world. Mister and his gang are now stuck fighting against the cult members as well as the vampires.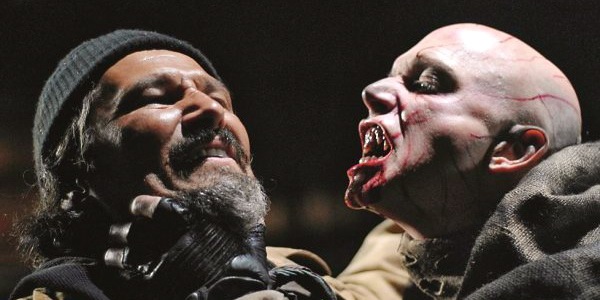 It's somewhat of a coming of age film as you see Martin adapt to the new world and begin to find his place. The storyline isn't killer but there's some decent action and if you are into vampire/zombie movies, it's worth a watch.