This past weekend, there were two big races: The U.S. Track and Field Championships and the Western States 100. Being that there's no World Championships spots on the line because they don't have the championships this year (which I think is dumb), a lot of top runners ran events outside their normal event and a lot of top runners just didn't show up.
To be honest, I only watched one track race. Life is busy right now (I know, I shouldn't be busy because teachers get paid two months vacation every year) and with kids, running and a house and yard to take care of, I didn't have much time to sit in front of the TV/laptop. And I must admit, I dusted off the PS3 that hasn't been played in a very long time and started and finished God of War 3. Zeus gave me a bunch of whoopings, but I had the last laugh.
But I stayed up so I could watch the men's 5000m. There were two native Nashvillians in the race (Andrew Bumbalough and Sean Keveren) and I've gotten to know Tyler Pennel at some races and have met Eric Finan a couple of times, so I wanted to see all of them compete. I was disappointed that Galen Rupp scratched from the race. I don't think Sacramento has high allergy counts and the track didn't look bumpy or anything, so I don't know why he decided to skip it. But I was looking forward to seeing if Ryan Hill, Hassan Mead or Bumbalough would be able to take Grandpa Lagat.
In the race,Tyler took the lead early on and was clicking off consistent 67s with no one else wanting to help out. Maybe they all were looking at his rat tail or something. Eventually the pace picked up and the bell lap found Bumbalough in the lead. He was looking really strong and Bernard Lagat wasn't really responding. Just when I thought that Bumbalough would be able pull it off the victory, Lagat started a manic kick with about 10 seconds left to take the victory, with Bumby finishing second. Tyler and Eric PR'd to finish in 9th and 10th, with Sean in 15th. While I missed the women's 5000,
the last lap was an insane battle
. If you didn't see it, you just have to watch for yourself.
It was also cool to see Ben Bruce compete in the steeplechase. He's run a couple of marathons this year, along with a ton of other road races and I don't believe has run a steeplechase all year. I always root for guys who aren't primadonnas and go out and race hard and race often in a variety of distances. But since he was the top 32 year old finisher at the Gate River 15k this past March, I will be seeking revenge on him next year.
Even though I have a closer association with track, I spent more time this weekend watching Western States. Western States is a 100 mile trail race in California wither over 18,000 feet of elevation gain and 22,000 feet of elevation loss. I'm kind of a closet ultramarathon fan because I love the unpredictability of it all and you can even take a long nap and go for a couple of runs and still not miss much. I knew the 5000m and 10000m this past weekend would be sit-and-kick races but in the ultra running world, you never know what will happen. A dude could be leading by 15 minutes with a few miles to go and then he completely falls apart and gets passed by several guys. And there's so many different aspects of it all: smooth and fast singletrack, insanely rocky terrain, super steep and super long hills and then you have to figure out the whole nutrition aspect. And a lot of the top American ultra guys are more unique "characters" than a lot of the track guys are. You have Zach Miller, who literally trained on a cruise ship, come out and start smoking everyone. Max King, who is a sadistic guy who once ran a race with the bib number pinned to his bare chest and is also nationally competitive in the steeplechase and cross country. Sage Canady, a former 2:16 guy who runs in those tall shoes and makes a lot of YouTube videos (but the guy seems to be really intelligent and one of the brighter minds in the sport). Rob Krar, who was a 1:51 800m guy in college, but is now destroying 100 milers and the list goes on.
Going into the race, I thought Rob Krar was the big favorite. He's been running really well lately and seems to have a knock for the long stuff. Max King was making his 100 mile debut and even though I would predict him to win this race if it was a 50 miler, he seems to have trouble with races over 100k. And since it was his first 100 miler, I couldn't seem him knocking it out of the park on the first try.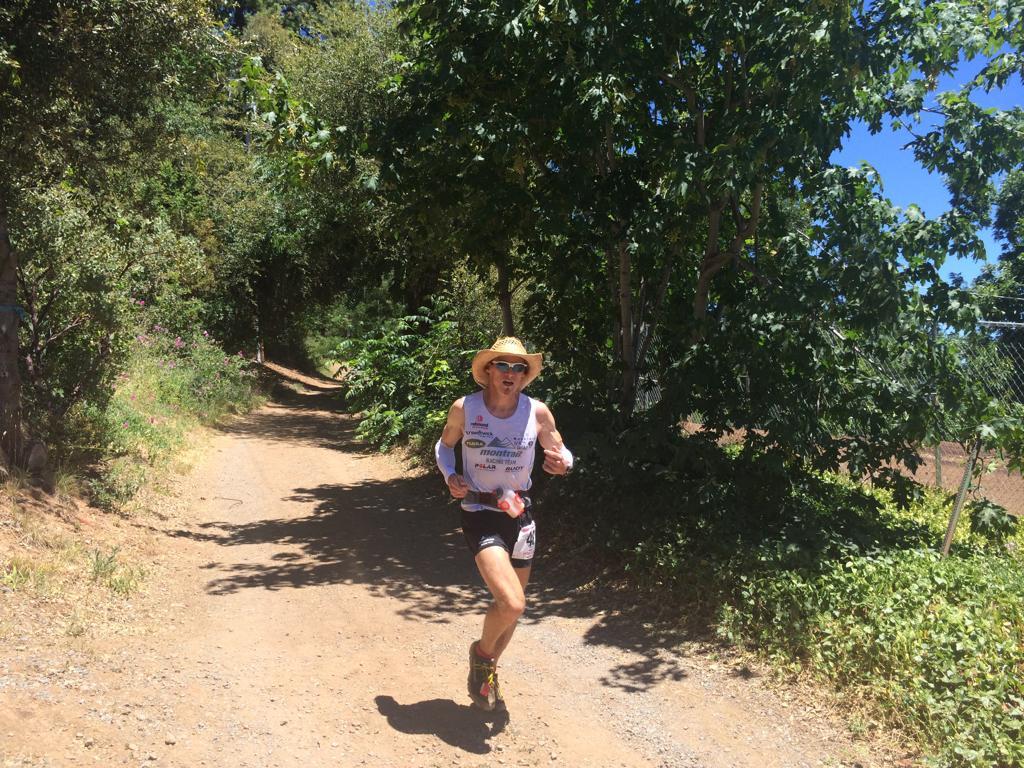 You can even race in a cowboy hat if you wish
Max led from the start and was building up a nice sized lead. Krar was hanging back in the pack and bidding his time. Once, I saw that, I felt like my prediction for the Krar win was sealed but was hoping Max could hang on for a podium spot. Krar ended up taking the lead at 71 miles, to win in 14:53 and Max fell back to fourth in 15:44. Seth Swanson, finished second and he has only been running a few years, with Dylan Bowman in third.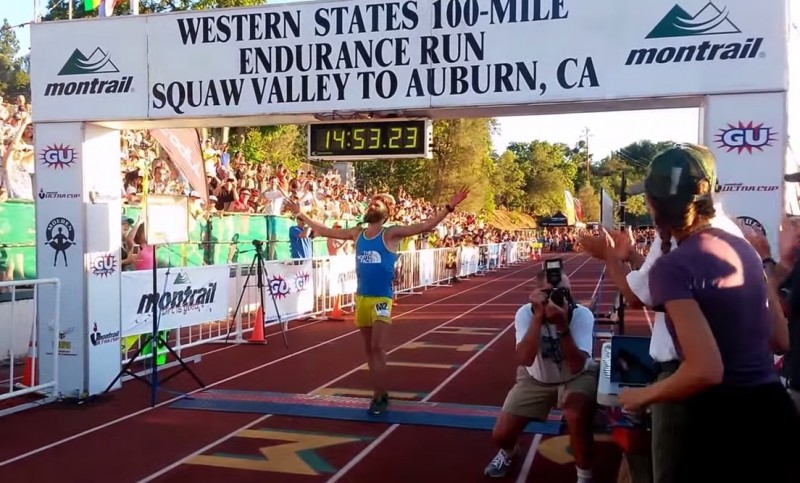 Watching that race also made me put Western States on my bucket list. I've always wanted to try a 100 miler but I'm a terrible trail runner....I hate running on rocks, I crawl up steep hills and get scared running down fast descents and I have a heck of a time changing gears. But Western States is like the "Boston Marathon" of the ultra world, so I figure I'll give it a go some day. I may be a terrible technical trail runner but I can eat a ton of crap before running and it never bothers me, so at least I have that going for me.